Dear Andy Page
Dear Andy = Hi Andy! I graduated DH school in May '05. I recently found a full-time dental hygiene position. I work 36 hours a week and by the end of the day my index & middle finger hurt. I am always conscious about not using my fingers to scale, but sometimes under stressful situations I catch myself using them. Are there any tips or suggestions that you can share with me? Even if you know of a CE course about ergonomics I would be so grateful! Thank you so much for your help!! It is greatly appreciated!
--------------------------
I think the expert in this field is Anne Guignon, RDH, MPH who writes extensively in RDH magazine and lectures nationally about how to prevent these situations and what to do when it happens. I would check out her website at http://www.ergosonics.com/ and look at her lecture schedule to see when you could adttend one of her courses. . Also she has a great website with numerous articles here - http://www.anneguignon.com/.
Another product I really like is called "The Gripmaster" which you can see below. Professional golfers and muscians have been using these for years and I really think they could benefit dental hygienists also. You can find out info about it here, but I purchased mine on ebay a little cheaper. http://www.bodytrends.com/store/product.asp?Screen=PROD&Product_Code=RSG4BLI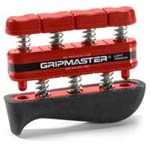 I also found these website to be very helpful and I try to do them all the time, while driving, in between patients, watching TV, etc.
Good luck!
Andy

Stretch Now - Exercises for the Hands and Fingers http://www.stretchnow.com.au/exercises/hands.htm

Slide show: Hand exercises for arthritis pain relief - MayoClinic.com http://www.mayoclinic.com/health/arthritis/AR00030&slide=1

Carpal Tunnel Exercise | A Easy Way To Avoid CTS | Exercises For ... http://www.safecomputingtips.com/carpal-tunnel-exercise.html

Carpal Tunnel Syndrome: Preventing the Pain in Your Hands and Wrists http://familydoctor.org/023.xml